The Aromatherapy Benefits
Of Tea Tree Oil
(Melaleuca Alternifolia)
Melaleuca Alternifolia or Tea Tree oil contains potent antibacterial and anti-infectious properties. Powerful but mild, this healing oil is safe to use on children and most pets.
Natures Antibiotic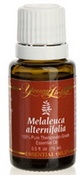 Tea tree oil is one of "Nature's finest antibiotics" because it contains properties that are highly effective at killing bacteria…but unlike pharmaceutical antibiotics this essential oil supports life, making it a pro-biotic as well. It has an innate ability to discern between the friendly bacteria that are essential to our bodies and the bacteria that are destructive to our health. This is in sharp contrast to antibiotics that kill all internal bacteria, including those that support and protect our well being.
This wonderful oil can be used while taking antibiotics. One side effect of taking antibiotics is fungal infections, either local or systematic (whole body), such as candida. Fungal or yeast infections impair the body leaving it susceptible to serious disease. They can cause weakness, exhaustion, even depression.If you use tea tree oil with antibiotics you can limit the risk of getting a fungal or yeast infection.
Essential oils are pro-life and tea tree oil is pro-biotic; it supports the beneficial bacteria while helping the body to eliminate harmful bacteria.
Tea tree oil has properties with a large spectrum of action against gram positive and gram negative bacteria making it a good first choice in supporting the body in fighting bacterial infections. This essential oil also supports the immune system which helps the body to repair and heal itself.
Melaleuca Alternifolia (tea tree) has extraordinary antiseptic power, contains remarkable anti-infectious activity, and is exceptionally mild, even with regard to mucous membranes. This oil is exceptional for support against bacterial infections in the respiratory system.
Tea Tree or Melaleuca is an extremely gentle essential oil. With repeated applications it is just as effective as the stronger, more powerful oils like oregano, thyme, clove, cinnamon and lemongrass...and safer for young children.
Family First Aid Kit
We definitely recommend this oil for your Family First Aid Kit. This essential oil is a "staple" in our house and we use it as a general, all purpose, anti-infectious oil because of it's anti-infectious properties. It is not the best smelling oil (for some people it takes getting use to) but it is so versatile and effective for a wide range of ailments.
Tea Tree Oil, Lavender Oil, and Thieves essential oil blend are the essential oils we use the most on our babies and children. They are excellent oils for all family members, adults as well.
Burns, Ear Infections

In fact very effective supportive care for burns is a combination of both Tea tree and lavender essential oil. When you mix the two essential oils together you create a synergistic blend that increases the power of both oils.These two oils pair well together for many ailments, including ear infections (otitis media), minor cuts and scrapes, insect bites, etc.
Toothache

Tea tree can provide temporary relief for a toothache until you get to a dentist. A few drops placed directly on the aching tooth with a toothpick or cotton swab can reduce pain and support the body in fighting the infection. If pain persists you can add a small amount of peppermint oil. Peppermint oil is strong so don't overdo it. We have had good results with Clove oil also. Clove oil is considered a "hot" oil so be very cautious as it can burn.
Order Young Living Tea Tree Oil
How to use: Diffuse and apply topically.
Internal: We only recommend Young Living Tea Tree Oil for internal use.
Properties: anti-bacterial, antiviral, antifungal, anti-infectious, antiseptic, anti-parasitic, anti-inflammatory, immune-stimulant, cardio-tonic, decongestant of the veins, reduces phlebitis, neuro-tonic, analgesic, and protects against radiation.
Uses: Acne, Athlete's foot, bacterial infections, bronchitis, burns, candida, cold sores, inflammation, fungal infections, moles, respiratory infections, gum disease, rash, sore throat, sunburn, tonsillitis, thrush, viral infections, warts and wounds (promotes healing).**Tea tree oil is excellent for nail fungus.
Safety: Consult physician if pregnant or under doctors care. Do not use on cats.
Fragrant Influence (Limbic): Promotes cleansing and purity
Quoting Dr. Daniel Penoel, M.D., from his book "Life Helping Life," he says "I maintain that the greatest contribution to be made by tea tree oil is in disinfecting the digestive system." He continues to say that cleansing the digestive system, including the intestines, is crucial for any chronic problems, including those of the respiratory, urinary, digestive, hormonal, skin, and joints.
Cleansing the digestive tract is extremely health promoting and is accomplished by taking tee tree oil internally. The recommended dosage is one drop per day in a glass of juice or herbal tea, taken alone without food. Please note that I only recommend Young Living therapeutic grade Melaleuca Alternifolia essential oil. Quality and safety are of the utmost importance in obtaining successful results.
Illness usually stems from a build-up of toxins in the body and a weakened immune system. Both are related to problems in digestive tract, particularly the intestines.
Daily use of tea tree oil (one drop in a glass of fresh juice, or in herbal tea) will allow you to take internal advantage of tea tree's healing powers. When taken alone (without food) the molecules are absorbed and circulated throughout the body and eliminated through the kidneys within 30-60 minutes. This internal action can be enhanced by applying a drop on the external kidney areas.
"I expect that essential oils may some day prove a vital weapon in the fight against strains of antibiotic-resistant bacteria." (Andrew Weil, M.D., 1996)
Research: Dr. Penoel, M.D., Rose Marie Penoel, from their book "Life Helping Life," and "The Essential Oils Desk Reference" by Essential Science Publishing
*Disclaimer:The information on this site is for educational purposes only. It is not intended to diagnose or prescribe any of these products for you or your family. In the case of illness you should contact your health care professional. In no instances shall the owner of this website or its affiliates be responsible or liable for any damages whatsoever resulting in connection with the use of this information, products, or its publication. The decision to use any information from this site is the sole responsibility of the reader.
Disclaimer: These statements have not been evaluated by the Food and Drug Administration. In strict accordance with FDA regulations the information and products on this website are not intended to treat, cure, prevent, mitigate or diagnose any illness or disease.