Thieves Oil Provides Powerful Immune Support
Thieves Oil is a blend of five essential oils that are highly effective in supporting the immune system.
Thieves essential oil is a safe and natural way to care for your family's health. All members of our family, even our children and babies, use this remarkable oil.
Young Living Thieves® Essential Oil is an outstanding blend of five different therapeutic grade essential oils, including cinnamon, clove, lemon, eucalyptus, and rosemary.
This combination of oils covers a broad spectrum of support. Having a robust immune system is important as we face worldwide threats to our health or even the "Winter Nasties." It provides wonderful immune support for those times when you feel "under the weather."
Uses of Thieves Oil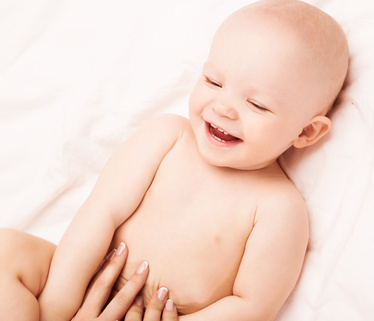 All members of our family, from our youngest to our oldest, and even our pets, use this oil. It is one of our favorite oils.
We use Thieves Oil for immune support, for the minor aches and pains of daily living, to disinfect, eliminate odors, care for our pets, and much more. It is a very versatile oil blend.

The Story of Four Thieves Recipe

Spice Traders had immunity from the Black Plague
There are many variations of this story, including four thieves, five thieves, spice traders, etc. The most famous or popular story is about a group of spice traders who turned into thieves after an outbreak of the highly contagious and deadly Black Plague.  It is reputed that the "four thieves" were protected from these highly virulent germs even as they robbed the bodies of the dead and dying plague victims. In other words, they did not get sick!
Why? Because according to the story, they had rubbed anti-infectious herbs, spices and oils all over their bodies.  
During the course of their plundering, four of the thieves were caught by the king's men. Standing before the king, the four thieves disclosed the secret of their immunity, their secret recipe, in exchange for a more lenient sentence. After learning the four thieves secret formula, the king had the thieves oil recipe posted throughout the city.  
Young Living has a proprietary blend called "Thieves®"based upon this 15th century recipe found in the Royal English Archives.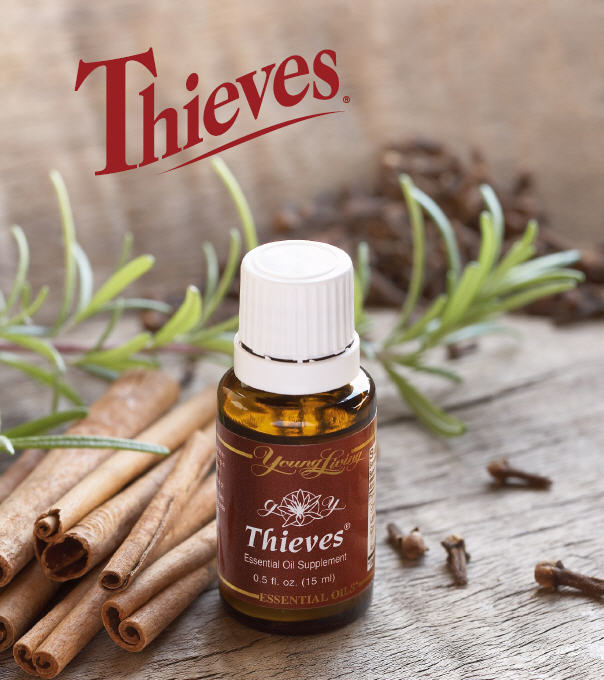 99.96 Percent Kill Rate against Bacteria

Research conducted at Weber State University in Utah showed a blend of essential oils, cinnamon, clove, lemon, eucalyptus, and rosemary, had a 99.96 percent kill rate against airborne bacteria.

*Research shows that essential oils have the ability to interrupt the life cycle of bacteria and to interfere with the ability of viruses to replicate. Studies also confirmed that most viruses and bacteria cannot live in the presence of many essential oils, including two of the oils found in the Thieves Essential Oil Blend, cinnamon and clove.
Below is a short list of the amazing properties each of these oils bring to the Thieves Essential Oil Blend
Clove: Supports immune system, powerful antioxidant
Cinnamon Bark: High in antioxidants, supports digestive system
Rosemary Oil: Supports mental alertness when experiencing mental fatigue
Eucalyptus radiata: Supports immune and respiratory systems
Lemon Oil: Powerful antioxidant, natural solvent and cleanser, supports circulation
Powerful Protection
A strong immune system and preventing the spread of germs is always your first defense against infection. Washing your hands frequently and disinfecting the air and surfaces in your home can help stop the spread of harmful germs from person to person. Thieves® has powerful immune supporting properties.
How To Use Thieves Oil
Diffuse daily, rub into your skin, and use to clean and disinfect your home.  This is wonderful support for keeping you and your family healthy.

Diffusing Essential Oils

Diffusing is a great way to get this health supporting blend into the respiratory system of household members. Inhaling diffused oils supports the immune and respiratory systems which are often the target of bacteria and viruses.
Purifying the air adds a valuable level of support in the health and wellness of your family. Many germs that travel through the air are linked to common ailments.

In addition to diffusing throughout the day, you can diffuse therapeutic grade essential oils in the bedroom at night during sleep. It is a wonderful way to support the respiratory and immune system.
Massage or Topical Application:
Thieves oil can be diluted and massaged into the skin to help support the immune system. Two very effective areas to massage are the reflex areas or vita-flex points on the feet; for example the lungs, sinus, bronchials, ears, etc., and also along the spine. This brings support to these areas.

Test for sensitivity.
Diluting Thieves essential oil in vegetable oil or carrier oil before applying to the skin is recommended. The bottom of the feet is always the safest place to use and test oils, especially on children and those with known sensitivities or allergies.
For your health and safety always test first!
Please Read Essential Oil Safety!
*At the very first sign that our health may need additional support, I increase the amount of applications. I vitaflex Thieves Essential Oil into our feet and massage it into the lower back and up along the spine. Massaging the feet and back is relaxing and it helps to support the immune system.
Young Livings Thieves Oil can be taken internally with capsules, in honey, in juice or water, or dropped directly onto the tongue.
Thieves Oil Recipes
We have many family recipes and uses for this versatile oil. You will find the recipes we use to clean and disinfect, the recipes we use for health and wellness, including our recipes for intensive use.
Disinfecting
Young Living carries a wonderful plant based "Thieves® Product Line" for household cleaning, disinfecting and personal care. These products make it easy to bring the powerful benefits of Thieves oil into your home. If you prefer, you can make your own disinfectant spray, mouthwash, etc.
Thieves Oil Provides Multiple Benefits
This essential Oil is truly potent and powerful. It supports all of the major systems of the body, including the immune and respiratory systems.
It supports the body in health so that it can stay strong in its natural ability to protect against illness, both viral and bacterial.
One more thing…with the utmost sincerity we caution you to always use common sense in the case of serious illness or injury. We urge you to seek professional help if necessary.
Life is precious and family is precious. Our family honors both nature and medical science. We understand there is a time for each and we respect the wisdom of both.
Young Livings Thieves® Oil
We only recommend Young Living Essential Oils because of their guaranteed purity and safety.
Young Living Essential Oils is truly a company that is trustworthy and reliable. They have only the highest quality therapeutic grade oils that are backed by documented research.
These are the essential oils our family trusts and has used for over eleven years. The natural aromatherapy benefits we share on this site are only from using Young Livings' therapeutic grade essential oils.
Return Home to "Natural-Aromatherapy-Benefits
The information on this site is for educational purposes only. It is not intended to diagnose or prescribe any of these products for you or your family. In the case of illness you should contact your health care professional. In no instances shall the owner of this website or its affiliates be responsible or liable for any damages whatsoever resulting in connection with the use of this information, products, or its publication. The decision to use any information from this site is the sole responsibility of the reader.