Thieves Oil Provides Powerful Benefits to support against Viruses and Bacteria
Thieves Oil is a blend of five essential oils that are scientifically documented to contain properties that are highly anti-infectious, antiviral, antibacterial, and antiseptic. Thieves essential oil is a safe and natural way to care for your family's health. With the concern over global pandemics, and other infectious disease, this potent oil blend is a powerful way to support your family's health and wellness.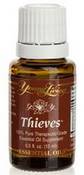 Young Living's Thieves® Essential Oil

This healing oil is a blend of five different therapeutic grade essential oils, including cinnamon, clove, lemon, eucalyptus, and rosemary.
This combination of healing oils covers a broad spectrum of antimicrobial activity and contains properties that support the immune system.
Due to its effectiveness against highly infectious germs, it may prove effective in in it's support against viruses and bacteria, it may be one of nature's most powerful natural home remedies.
Uses of Thieves Oil
All members of our family, even our children and babies, use this remarkable oil with excellent results. It is one of our favorite oils. We use Thieves Oil to support us for flu, colds, sinusitis, bronchitis, pneumonia, sore throat, strep, toothache, cuts, poison ivy, and for immune support. We use it to eliminate odors, disinfect around the house, and so much more.
Immunity from the Black Plague
There are actually many recipes for Thieves Oil. Young Livings Thieves Oil is based upon a 15th century recipe found in the Royal English Archives. This recipe protected a group of thieves from the black plague even as they robbed the highly contagious bodies of the plagues dead victims. During the course of their plundering, four of the thieves were caught by the king's men. In exchange for not being burned at the stake, the four thieves disclosed the secret of their immunity. Young Livings Thieves Oil has been specially blended to offer the same kind of defense.
99.96 Percent Kill Rate against Bacteria
Young Living's Thieves Oil has been scientifically proven to kill deadly germs. Research from Weber State University in Utah has shown that it has a 99.96 percent kill rate against airborne bacteria. It was proven to contain properties that are highly anti-infectious, antiviral, antibacterial, and antiseptic.
*Research shows that Young Livings Thieves Oil effectively interrupts the life cycle of bacteria and also interferes with the ability of viruses to replicate. Studies also confirmed that most viruses and bacteria cannot live in the presence of many essential oils, including two of the oils found in the Thieves Essential Oil Blend, cinnamon and clove.
Order Young Livings Thieves Oil
Below is a short list of the amazing properties each of these oils bring to the Thieves Essential Oil Blend
Clove: Supports immune system, powerful antioxidant
Lemon Oil: Powerful antioxidant, natural solvent and cleanser, supports circulation
Cinnamon Bark: High in antioxidants, supports digestive system, relieves discomfort
Rosemary Oil: Naturally energizing, helps to restore mental alertness when experiencing mental fatigue
Eucalyptus Radiata: Highly antiviral properties, supports respiratory system, antibacterial properties

Powerful Protection
Preventing the spread of germs is always your first defense against infection. By washing your hands frequently and disinfecting the surfaces in your home you can help prevent the spread of harmful germs from person to person. Thieves® has powerful antiseptic properties.
How To Use
Diffusing Thieves Oil daily, rubbing it into your skin, and using it to disinfect around your home can help keep you and your family healthy.

Diffusing Essential Oils


Diffusing is a great way to get this health supporting blend into the respiratory system of household members. Inhaling diffused oils supports the immune and respiratory systems which are often the target of bacteria and viruses. Purifying the air adds a valuable level of protection and support in the health and wellness of your family. Many germs that travel through the air are linked to common ailments such as the cold and flu.
In addition to diffusing throughout the day, you can diffuse therapeutic grade essential oils in the bedroom at night during sleep. It is a wonderful way to support the respiratory and immune system if someone is fighting an infection.
Anointing with Essential Oils
The Bible and other historical texts mention anointing loved ones with aromatic oils and spices for protection against illness and disease. This has been practiced by families for centuries.
Massage or Topical Application:
This healing oil can be diluted and massaged into the skin to help protect against the germs that cause illness. It is also very beneficial in the care of illness. Two very effective areas to massage are the reflex areas or vita-flex points on the feet, for example the lungs, sinus, bronchials, ears, etc., and also along the spine where bacteria and viruses tend to hibernate.
Test for sensitivity.
Cinnamon and clove oil are powerful oils and could cause a reaction in some people. Diluting this essential oil in vegetable or carrier oil before applying to the skin is recommended. The bottom of the feet is always the safest place to use and test oils, especially on children and those with known sensitivities or allergies. For your health and safety always test first!
Please Read Essential Oil Safety!
*At the very first sign of not feeling well, such as a tickle or scratch in throat, achiness, low energy, a child who wants to be held all day for no apparent reason, etc., more frequent applications may be required. Young Livings Thieves Oil can be taken internally with capsules, in honey, in juice or water, or dropped directly onto the tongue.
Thieves Oil Recipes
We have many family recipes and uses for this versatile oil. You will find the recipes we use to clean and disinfect, the recipes we use for health and wellness, and the recipes we use for the care of common ailments; including our recipes for intensive use.
Disinfecting
Young Living carries a wonderful plant based "Thieves® Product Line" for household cleaning, disinfecting and personal care. These products make it easy to bring the powerful benefits of Thieves oil into your home. If you prefer, you can make your own disinfectant spray, mouthwash, etc.
Planning and preparing ahead of time, with prevention as your main goal, is the smartest course of action and is your best defense.
My question is "Do you have a plan to protect yourself and your family?
Thieves Oil Provides Multiple Benefits
This essential Oil is truly a potent and powerful natural home remedy. It supports all of the major systems of the body, including the immune and respiratory systems. It supports the body in fighting off infections and in its ability to protect against illness, both viral and bacterial.
One more thing…with the utmost sincerity we caution you to always use common sense in the case of serious illness or injury. Bacteria and viruses have the ability to multiply rapidly, into the millions within a few hours, and can very easily become life threatening. We urge you to seek professional help if necessary.
Life is precious and family is precious. Our family honors both nature and medical science. We understand there is a time for each and we respect the wisdom of both.
Young Livings Thieves® Oil
We only recommend Young Living Essential Oils because of their guaranteed purity and safety. Young Living Essential Oils is truly a company that is trustworthy and reliable. They have only the highest quality therapeutic grade oils that are backed by documented research. These are the essential oils our family trusts and has used for over eleven years. The natural aromatherapy benefits we share on this site are only from using Young Livings' therapeutic grade essential oils.
Return Home to "Natural-Aromatherapy-Benefits
The information on this site is for educational purposes only. It is not intended to diagnose or prescribe any of these products for you or your family. In the case of illness you should contact your health care professional. In no instances shall the owner of this website or its affiliates be responsible or liable for any damages whatsoever resulting in connection with the use of this information, products, or its publication. The decision to use any information from this site is the sole responsibility of the reader.